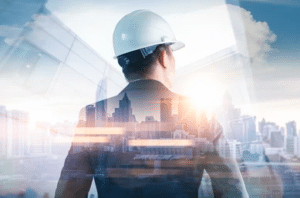 Why become a civil engineer? Have you asked yourself before pursuing this degree? It might be because of a passion for planning structures, an enjoyment of mathematical operations, an interest in working on complex projects, or sometimes only to fulfill parents' desires. The grounds for majoring in civil engineering are incredibly vast, and lacking forthcoming knowledge in this field, and proper guidance from qualified personnel could cause the student to face problems during and after his studies. On the bright side, a civil engineering degree proves to be a hopeful prospect, opening the way for different career paths. In this article, you will be escorted through common problems civil engineers are facing, some tips for civil engineering students ready to graduate, several career paths they can follow,  and how educational agencies can play a significant role in your educational and career route.
The Demand vs. Supply: Why is the job market minimally absorbing graduating civil engineers?
You hear that civil engineers are not getting jobs, or that there is no demand in the civil engineering field. On the other hand, you find many successful engineers excelling in their field of expertise. What is so baffling about this story and why civil engineering graduates are not getting jobs? Although some graduates passed through smooth recruitment processes after acquiring their degree, several students are having a hard time securing a job after graduation and there are several reasons for that. The most common problem fresh graduates face while applying to jobs is the requirement of work experience. It is uncommon to have work experience upon graduation, but if you want to work in a civil engineering field, it is advisable to have as many internships as you can starting your second year. In civil engineering, a graduate engineer with no practical experience is not capable of accomplishing work. It is a chief element for employers, in which it proves the applicants' apprehension as well as their motivation and interest in the field. Undergoing internships during your years of study not only enriches you with work experience, but it will also give you a wider overview of this field and will influence your decision about choosing your career path. Another important issue that stands in the face of graduates is the lateness in starting to apply for jobs. You need to start your job search early and start applying before graduating. This will boost your job search opportunities with respect to more available options and a reduced amount of wasted time. Also, graduates sometimes get defeated after many rejections or after receiving no response from companies they applied to. Sometimes you need to apply to more than 200 jobs to finally get the job offer you want; just keep on applying and never give up. Another thing is that there is a competition for job placements with regards to the huge number of civil engineering graduates. Make sure to have an outstanding performance to overcome the lack of graduate opportunities. COVID-19 pandemic has exacerbated the formerly mentioned problems faced. However, civil engineering is a sector essential for human development; sustainable solutions will be always found in civil engineering to adapt to arising problems and emergencies.
Golden Guiding Tips for Graduating Students
A harsh fact for all graduates is that things in the real world are tough. To make the most of your university years and be well-prepared post-graduation, you will be provided with useful tips that will help you overcome problems upon graduation.
Start fixing your CV in your first year at university. Try to figure out what experiences you must-have when applying for your entry-level job after graduation, and work to get those experiences throughout your years at university.
Get engaged in extracurricular activities. The most important activity that you should not miss during university is to get engaged in extracurricular activities. This will help you widen your circle of connections and guide you through making a decision about your future career. Additionally, an experience like that also makes you develop and learn new skills like leadership, teamwork, and communication skills which are essential requirements in most of job applications. These skills need to be earned at an early age and developed with time. So acquiring them early at university years, allows you to readily apply them after graduation. When equipped with these skills, a graduate can be privileged with passing through the job interview and selection process smoothly.
Build your LinkedIn account and start making professional connections. This can help you find your perfect job and enhance your career search. Be encouraged to message professional people for inquiries or for requesting some skilled favors. There are also plenty of short courses on LinkedIn that you can register in to help you gain skills in a certain field. Certificates earned will intensify your CV.
Consider relocating while searching for your first job. Do not limit your search to a specific area; job opportunities may sometimes be found in different geographic areas than yours.
Start as an intern. Do not refuse to accept internship opportunities while looking into entry-level jobs. Spending time on acquiring new skills and building new connections is a solid base for starting your career path. Thus, proactively wait for your job opportunity while being an intern at a workplace, instead of laying on your couch.
Benefit from the university career services. The university provides career services for the students, make sure to utilize the services it offers as they will have a good impact on your career choices.
Possible career paths for civil engineers
The area of jobs after acquiring a civil engineering degree is limitless. If you want to work in the civil engineering field there are plenty of sectors in which you can work in. These include structural, geotechnical, transportation, water resources, environmental, materials, and project management fields. Among each of these fields, there are several career paths that one can follow or even deviate from a field to another during his path, which eventually lead him to a promising profession. Other career paths could be in the educational sector. And the better part is that if you want to work outside the civil engineering field there are also available options. You have plenty of research and consulting options or any other field that requires strong analytical and problem-solution skills. Every career field has its peaks and valleys, but it certainly has its benefits; you need to set your end goals and research about the career paths along with having advice from professional mentors. Whatever journey you decide to follow, it will give you a rewarding experience.
Referring to Educational Agencies
The selection of the undergraduate and graduate programs is not an easy or simple decision. Sometimes a student thinks that he/she holds a huge responsibility to select the program which shapes his/her future and career path. A student can always refer to educational agencies which lend a helping hand to students. Studypedia is one of the educational agencies that guide students through different phases of acquiring an educational degree. At Studypedia, they really care about the student and the new journey he/she is about to start. Therefore, each student seeking education counseling is treated each as a unique individual. They understand his studying preferences plus his social background. They get a full image of what the student demands and accordingly give him the right options that fit his case and meet his hopes. Their rich knowledge and ethical work are what make students satisfied after communicating with them. Their work does not stop here, but they keep following up with the students to ensure he/she is guided through the full journey. Adding to that, if you are a degree graduate, they can help you with some steps in your career paths like CV writing, interview coaching, or continuing further studies.
Civil engineering is a gripping domain, but the road to being a successful engineer is intricate and requires rich questioning.  Students should not be limited by one side of a story or a general stereotype about this field. There is always a promising future for civil engineers with the right actions of research and mentoring, the development of personal and professional skills, and practical experience. Every rejection from a graduate job is a step forward towards your promised one. Our future civil engineers, a beautiful journey is awaiting you!
The post Building your career appeared first on Studypedia.
* This article was originally published here