With the fact that over 450,000 international students study in the UK every year, it is no wonder that it is a top destination for international students. The University of Westminster is one of the most recognized universities in the UK known for its practical, relevant, and contemporary teaching methods. It is the first polytechnic in London founded 180 years ago. Its location in the heart of London reflects its lively spirit and spread of multicultural community. So, whether you are aiming for a degree at a bachelor's or postgraduate level, the University of Westminster holds top reasons for registering in its programs.
London is your campus at the University of Westminster. It has 4 campuses based in London, the city where tradition meets innovation. Historical landmarks like Big Ben and the Tower of London, lively shopping streets and the West End, serene parks, and cultural libraries and museums are all attractions for tourists in London.
Its campus facilities comprise 24-hour libraries, state-of-the-art science laboratories, advanced IT services, online learning resources, art, design, film and TV studios, world-class audio recording studios, galleries, sports and recreational facilities, in addition to one of the few Bloomberg Financial Markets Suites in the UK.
Apart from the common programs found at every university, the University of Westminster is famous for its engrossing programs of Criminology and Sociology,
Data Science and Informatics, Fashion, Film and Television, Music, Tourism and Events Management, and Transport and Logistics.
The university has a record of excellence in research where its researchers have been granted more than £6 million. They have also participated in the fight against several health issues and diseases including Alzheimer's disease, breast cancer, Malaria, and the Ebola virus.
A transformative experience is awaiting you after studying at the university of Westminster. Besides to its educational excellence, students will experience social and personal development that will absolutely alter their future career.
The university has strong connections with professional organizations in the industry. They offer careers and employability services and guidance for students who need help in applying to any type of job or developing new skills.
In the light of COVID-19 pandemic, where the university have taken stringent measures to ensure safety and provide support for students, it is the right place to start your educational journey.
Learn more about the University of Westminster during our free virtual info session on Zoom on Friday, April 23 at 4:00 PM Beirut time.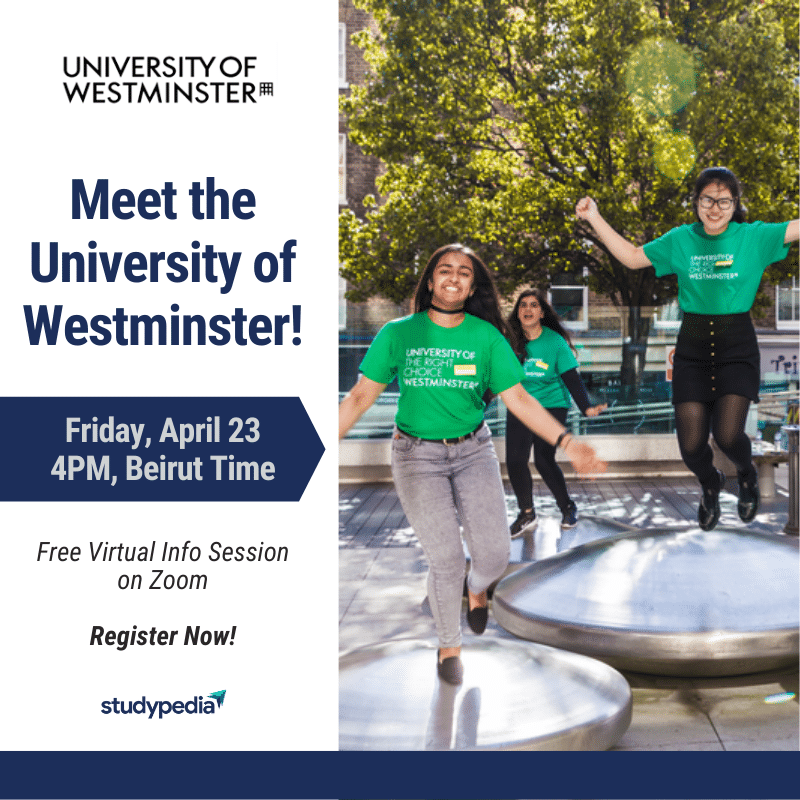 The post Why Study at the University of Westminster? appeared first on Studypedia.
* This article was originally published here